Darwin is the Northern Territory's capital, in a region Australians fondly call "The Top End". Situated at the Timor Sea edge, this city is closer to Bali than to the major capitals of Australia. Traditionally the Larrakia People's home, Darwin was in 1869 settled by Europeans. The population here is low since the city is isolated but the locals like it that way. Darwin is more of a gateway city – it is the gateway to a state of mind, Aboriginal Dreamtime, and outback adventures you can only appreciate once you are here.
Half the city usually gathers at the Mindil Beach Markets on Sundays and Thursdays. Here, the aromas of a variety of cuisines from different parts of the world mix together under the sky creating the ideal essence of Darwin's multicultural lifestyle.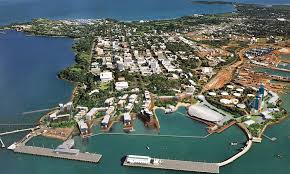 Head down to the beach at sunset for the best show in town and watch as the sun dips into the Arafura Sea. You can also catch a double feature under the stars at the Deck Chair Cinema, another local institution.
But life here has not always been this easy going. More bombs were dropped on Darwin than on Pearl Harbor during the Second World War. You can learn more about those dark days and the ongoing military significance of the city at the Australian Aviation Heritage Centre and the Defense of Darwin Experience.
Learn how this city was tragically flattened again in 1974 at the Darwin Museum and Art Gallery. The Art Gallery and Museum is also a great introduction to the region's unique natural environment and local cultures.
While you are here, remember to say hello to Sweetheart, a rogue crocodile that developed a taste for aluminum boats before he was caught. Sweetheart is quieter these days, but you can still experience the amazing power of Australia's fresh- and saltwater crocodiles at Crocodylus Park. About a 15-minute drive from Darwin, this park is home to more than 1,000 crocodiles. Make tracks to Crocosaurus to get real close to these creatures. Feed the crocodiles or for more adventure, climb into the Cage of Death and be lowered into a tank with some captive salties.
Hit the road to adventure for the best holiday snaps. There are more than 60 national parks in the Northern Territory and there are 20 in this region alone. If you ask any local for their favorite, they will likely pick the Litchfield National Park. Just about 2 hours from Darwin, Litchfield is surrounded by plateau, crisscrossed by croc-free swimming holes and narrow, deep gorges filled monsoon forests.
Whether you have explored The Outback for some days or months, there comes a time when you start to long for the city's creature comforts. This is where Darwin comes in, it is the ideal gateway back into the world, a world that is relaxed, big-hearted, and forever connected to the rhythms of human spirit and nature.